Registration
A one-time fee of $99 gets you unlimited use of Listomax®. It never expires! It includes free image hosting for a year for up to 3,600 images. After that, you can renew at the low price of only $49 per year, or use your own hosting service. All your information remains available whether you renew your photo image hosting with us or use another service.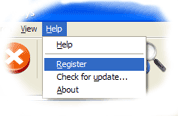 The easiest way to register is from within the program. Choose Register from the Help menu.
You can also register here. Enter your eBay name so we credit the correct ID, then click the button to pay using PayPal or a credit card.