Moving Listomax data
NOTE: if you want to move Listomax to a new machine, see the New machine page.
On XP, Listomax data normally lives in:
C:\Documents and Settings\username\Application Data\Listomax
and on Vista, Windows 7, Windows 8 and Windows 10, it is at:
C:\Users\username\AppData\Roaming\Listomax
where username is the logged-in Windows user.

Note that this is normally a hidden folder. See how to unhide it.
You can change its location with File > Move: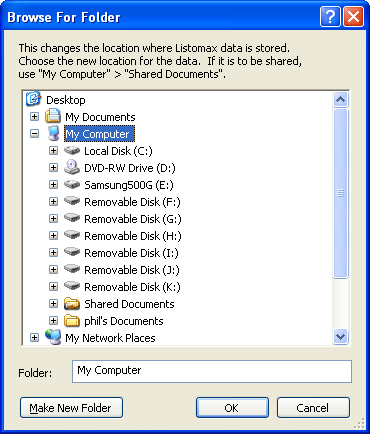 Choose the new location. If "Listomax" does not appear in the folder name, a sub-folder called "Listomax" will be created. This is to avoid mixing Listomax files with other ones.
The usual reason for moving the data is so that it can be used from another machine also. In this case, make sure that you are moving it to a folder that is shared between machines.
The move may take a considerable length of time, as there may be many large images for your inventory items. Please be patient!
Note that this can also be used to move Listomax data from one machine to another by choosing the computer from "My Network Places". This is an easy way to migrate between machines. See the New machine page for full details.